---
Do you manage your files, screenshots or shortcuts on your Mac desktop? If so, then you probably find yourself needing to clear away your open windows and applications quickly to access your desktop. I find myself needing to do this multiple times during my workday. If you manage the real estate of your Mac like me, your screen might look like this: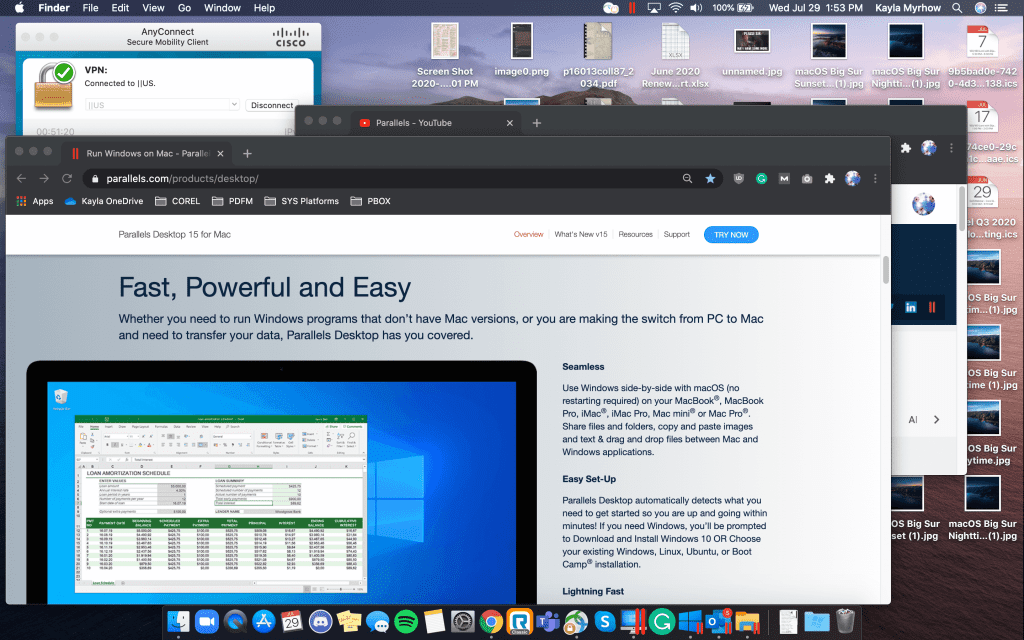 Luckily, there's a way to easily hide windows so you can see your desktop on macOS—with one click. The Show Desktop tool in Parallels Toolbox enables you to hide or close all opened windows at once.
When a window is hidden, it can easily be accessed by clicking on the application icon in the macOS dock.
Parallels Toolbox tool Show Desktop in action.
Our engineers designed Parallels® Toolbox as an all-in-one suite for creative individuals, students, small-business owners, chronic multitaskers, IT managers and everyone in between. The helpfulness of Show Desktop is not restricted to a specific industry. A wide variety of users in the digital workplace often find themselves stuck minimizing, closing, quitting and deleting files that were needed to get their task done.
Our goal with the Show Desktop tool is to save those precious files, save your time and provide peace of mind knowing you never have to click more than once to get this job done.
Tips and tricks:
In the tool's preferences, the default "hide" can be changed to "quit" to quickly wrap up what you might be working on.
To see which applications will be quit by this tool, use CMD + Tab as a shortcut.
Parallels Toolbox is our all-in-one solution with over 30 tools for macOS and Windows 10. With just one click, you can save space on your hard drive, create high-quality content, quickly optimize your computer for a presentation and so much more. Our economical suite of tools replaces the need for multiple applications and programs. Try a free 7-day trial of Parallels Toolbox for macOS or Windows 10 from the links below!
---
Helpful resources:
Automatic Download for Parallels Toolbox for macOS 7-day Free Trial (.DMG)
Automatic Download for Parallels Toolbox for Windows 10 7-day Free Trial (.EXE)
Parallels Toolbox for Mac Updates Historical Summary
Parallels Toolbox for Windows Updates Historical Summary
The post Hide windows and reveal your desktop with one click with Show Desktop tool from Parallels Toolbox appeared first on Parallels Blog.