---
It's finally here! We're so excited to introduce a new version of Parallels® Desktop: Parallels Desktop 16 for Mac.
With Parallels Desktop, you can run Windows, Linux and other popular operating systems on your Mac without rebooting. For 14 years, we've been the #1 solution for over 7 million users worldwide.
Learn more about the hottest new features in Parallels Desktop 16—and stay tuned for more blog posts coming this week detailing everything you need to know about Parallels Desktop 16.
What are the top new features in Parallels Desktop 16?
---
Incredibly fast
This version of Parallels Desktop is THE fastest version ever released. It starts up twice as fast as previous versions. Plus, Windows resumes and quits up to 20% faster. 
---
Improved graphics
Parallels Desktop 16 users can now run even more graphic-heavy, resource-hungry Windows apps with ease. Version 16 delivers up to 20% faster DirectX 11 and improved OpenGL graphics support for both Windows and Linux so you can run more Windows applications and games, including DIALux evo 9, ProPresenter 6, Samson Connect and more. Plus, the new version includes the world's first support for applications with 3D capabilities running in a macOS Big Sur VM.
Parallels Desktop users collectively run more than 200,000 Windows applications and with Parallels Desktop 16 can run even more applications.
---
Ready for macOS Big Sur and other OSes
Parallels invested more than 25-person-years of engineer programming to take full advantage of the new architecture in macOS Big Sur. We also revamped kernel extensions to deliver our best Windows-on-Mac performance ever. That's why we're proud to say that version 16 is optimized for macOS Big Sur 11.0 (when released) with a refreshed design, easier setup, and much more. Plus, our developers continue to update Parallels Desktop for future releases of Windows, macOS and Linux.
---
Better productivity
Wouldn't it be nice to get extra screen time while traveling? Windows in Travel Mode now uses less energy and extends battery life by up to 15%.
10% of Parallels Desktop users are short on available disk space. We've included a feature that will help you better manage disk space, with the option to reclaim available disk space to Mac automatically.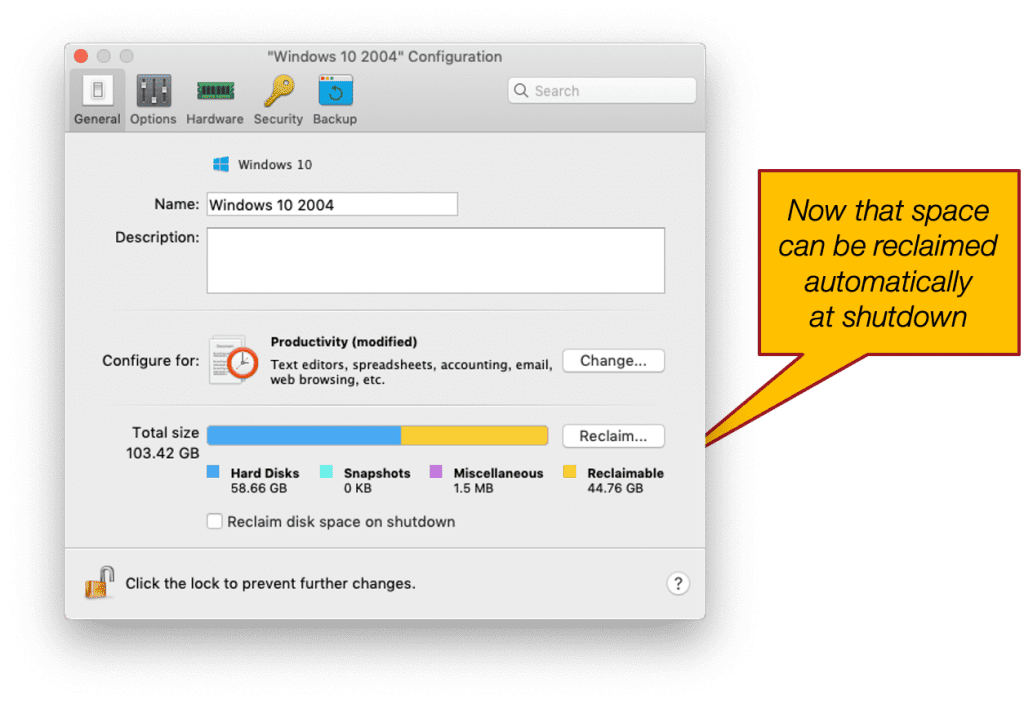 Set "Do Not Disturb" on your Mac and Parallels Desktop will make sure that Windows 10 doesn't disturb you either. This is especially useful when you're in an important presentation.
Do you usually work with a Trackpad instead of a mouse? Now you can zoom and rotate objects smoothly in Windows applications with Trackpad gesture support.
---
Enhanced integration
Every year we develop new features to perfectly integrate Mac and Windows with each other. In Parallels Desktop 16, we've added some powerful new features that make it even smoother to run Windows apps as if they were native on the Mac.
Do you want to use duplex printing from Windows applications, with paper sizes ranging from A0 to envelope? Good news—you now can with new print options.
Now you can confidently work on Mac files in Windows by engaging the "safe removal check" to ensure files in shared folders aren't accidentally deleted.
---
Linux and Mac VMs
Everyone who is passionate about using Linux virtual machines (VMs) has reason to cheer. With version 16, you can be more productive when working with Git repositories in Linux Shared Folders with up to 75% faster "git status" execution. In just one click, you can use and download the latest Linux distributions including Ubuntu 20.04, CentOS 8, Fedora 32 and Debian 10. Plus, Linux OpenGL improvements now let you run Steam.
Do you want to achieve picture-perfect quality and performance using macOS Big Sur in a VM? You can now, thanks to the first-in-the-world Metal graphics acceleration in a VM with macOS Big Sur.
---
Parallels Desktop and Apple Silicon
We're all very excited about this demo shown at Apple Worldwide Developers Conference (WWDC), which depicts a prototype of a forthcoming version of Parallels Desktop running on Mac with Apple Silicon. Parallels and Apple work closely to bring virtualization capabilities to Mac with Apple Silicon. Learn more.
---
New features in Pro Edition and Business Edition
For our professional and business customers, we recommend Parallels Desktop for Mac Pro Edition and Parallels Desktop for Mac Business Edition. Of course, all new features of Parallels Desktop 16 are included in these editions. Pro Edition and Business Edition now offer improved virtual machine deployment, including export capabilities to reduce the network load when deploying to many Mac devices on a corporate network. For developers, Parallels Desktop 16 enables users to name their custom networks for more organized testing.
Check out all new features that are exclusive to Pro Edition and Business Edition.
---
Special gift for Parallels Desktop users
In all subscriptions of Parallels Desktop 16, users get more than 30+ single-click utilities from Parallels Toolbox for Windows and Mac, plus Parallels Access to remotely access your PC or Mac from your iOS or Android device or any web browser.
Check out all the recently released features in Parallels Toolbox and Parallels Access.
There are lots more new features to discover! Check it out yourself and let us know which feature you like most in the comments, or on Facebook or Twitter.
---
How to get your copy of Parallels Desktop 16
 If you…
…are an existing customer, upgrade now.
…are a new customer, purchase your copy here—or test it for 14 days for free.
…have just recently purchased Parallels Desktop 15, check out our Tech Guarantee to see if you get a free upgrade.
The post Just Released! Parallels Desktop 16 for Mac appeared first on Parallels Blog.